FREE Phishing Vulnerability Test for Small & Medium Business
Did you know that 91% of cybersecurity breaches started with a spear phishing attack?
Find out what percentage of your employees are Phish-prone™ with our free phishing security test.
Plus, see how you stack up against your peers with the new phishing Industry Benchmarks!
IT pros have realized that simulated phishing tests are urgently needed as an additional security layer. Today, phishing your own users is just as important as having antivirus and a firewall. It is a fun and an effective cybersecurity best practice to patch your last line of defense: USERS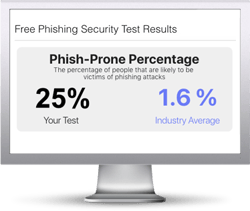 Why? If you don't do it yourself, the bad guys will. 
Here's how it works:
Register now to start your free test for up to 100 users
You can decide to show users which red flags they missed, or a 404 page
You get a detailed report emailed to you in 24 hours showing your  company phishing risk and charts that you can share with the company executive and management team
We help you learn how your organization compares to others in your industry
The Phish-prone risk percentage is usually higher than you expect and it shows the potential risk to your organization.
We give you access to the same tools used by government agencies and Fortune 500 companies.
In order to help you, we have partnered with KnowBe4, the leading global company in the field of CyberSecurity end user phishing testing and training.
Join over 30 thousand IT managers and companies that use these tools to test and train their users to be the first line of defense against phishing scams.
Start phishing your users now. Fill out the form, and we can help you get started immediately!